Iodine is necessary for the thyroid gland's proper performance. The human thyroid gland is located in the front of the lower part of the neck. All the blood in the body passes through the thyroid gland every 17 minutes. Because the cells making up this gland have an affinity for iodine, during this 17-minute passage the gland's secretion of iodine kills weak germs that may have gained entry into the blood through an injury to the skin, the lining of nose or throat, or through absorption of food from the digestive tract. Strong, virulent germs are rendered weaker during their passage through the thyroid gland. With each 17 minutes that rolls around they are made still weaker until finally they are killed if the gland has its normal supply of iodine. If it does not, it cannot kill harmful germs circulating in the blood as Nature intended it should.
Two drops of Lugol's solution of iodine works equally well in an adult. When the stress and strain of daily living create a load that is difficult to carry, producing a state of anxiety, and when the day's problems make it difficult to relax and sleep well at night, then one appreciates the aid that iodine gives. -D.C. Jarvis, MD from "Folk Medicine"
Folk Medicine in Vermont is interested in three R's-Resistance, Repair, and Recovery. First the individual asks himself whether his resistance to disease is as it should be. Next, is he able to repair tissue injury due to accident should it occur? Finally, if sickness should come, is his body able to bring about recovery? Somehow during the passing years he has learned that iodine is related to the ability to resist disease.
We learn in Vermont folk medicine, however, that this gland performs other functions besides killing harmful germs in the blood. The first is the rebuilding of energy with which to do the day's work. There is a definite relationship be-tween the amount of energy you have and your iodine intake.
Buy Thiodine Lugols 5% Solution of Iodine
The first question in the presence of a condition of depleted energy is, Is the soil of the state in which one lives iodine-poor? Second, is the deficiency being made up by supple-mentary means?All soils containing granite are iodine-poor and Vermont is one of them. This fact is very important to people living in Vermont and well may be important to those living elsewhere. When energy and endurance run low in relation to doing the day's work, then the taking of iodine needs to be considered.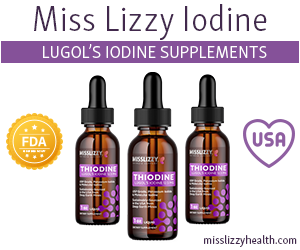 A second function of iodine is to calm the body and relieve nervous tension. When nervous tension runs high there is irritability and difficulty in sleeping well at night, and the body is continually on a combat basis, organized for fight and flight. All these points stress a body's need for iodine to lessen nervous tension, relax the body and enable it to or-ganize for peace and quiet, by the building and storing of body reserves against time of need. I have learned through Vermont folk medicine that it is possible to repeatedly change an irritable, impatient, and restless child under ten years of age into a calm, patient individual within two hours' time by giving one drop of Lugol's solution of iodine by mouth in a vegetable or fruit juice or in a glass of water made acid in reaction by adding a teaspoonful of apple cider vinegar. I have repeatedly prescribed this in order to make it possible for a mother of a racehorse-type little boy or girl to be able to live comfortably with the child. I have never seen it fail to calm down a nervous child.
In an adult two teaspoonfuls of apple cider vinegar and two of honey are added to a glass of water. The honey is there because it is a sedative. Then add two drops of Lugol's solution of iodine to the glass containing the vinegar and- honey mixture, stir it, and sip it during the meal as you would coffee or tea. Taken apart from the meal it can be sipped like a cocktail. Soon your motor will have slipped into low gear. Your problems and their solution will seem less difficult, and the day's load of responsibility easier to carry. In this age of anxiety the combination of iodine with vinegar and water will give the harassed individual increased energy and the endurance necessary to carry the daily load. You will find that the wear and tear of daily living is considerably reduced. – D.C. Jarvis, MD, from "Folk Medicine"
A third function of iodine in the human body relates to clear thinking. The mind simply works better when the body is supplied the iodine it needs. Then there is the matter of the storing of unwanted fat. Iodine is one of the best oxidizing catalysts we have. A catalyst is the match which touches off in the body the fire that burns up the food we take in each day. If this food is not properly burned off, it may be stored as unwanted fat.
As you study yourself you will soon learn to tell when you need iodine. When a night's sleep does not bring you to the beginning of the new day with the energy you are accustomed to have, you will begin to think of iodine. If you learn how to use it, it will restore the capacity to bounce back and sustain your well-being. D.C. Jarvis, MD, from "Folk Medicine"
Buy Thiodine Lugols 5% Solution of Iodine
Here is a collection of articles about Iodine, Hypothyroidism, Women's Health:
Thyroid Disease 'Raises Birth Risk' Dr. Mercola
Iodine May Improve Mental Performance Dr. Mercola
Australia is adding Iodine to their bread Stop the Thyroid Madness
A toxin which could explain why SO many of us have Thyroid Disease Stop the Thyroid Madness
Causes of Hypothyroidism (including Iodine Insufficiency)
Thyroid Supplements on Stop the Thyroid Madness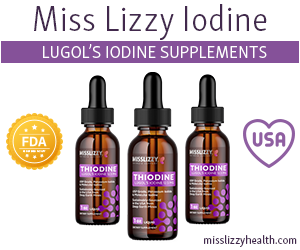 Relationship between Iodine and Thyroid Health
Breast & Womb – What I've Learned about Iodine Supplementation